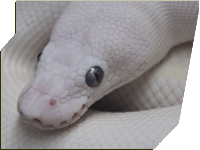 Genetic Morph: Leucistic " Blue Eye", Super Russo, Super Lesser , Phantom Lesser , Blue Eyed Lucy
Status: Co-Dominant
When: 2002 and 2003
By Whom: Vin Russo ( 02 Russo Line ) and Ralph Davis ( 03 Phantom x Lesser , 04 Platty x Lesser )
In the 2002 Breeding Season I was very fortunate enough to hatch a Blue Eyed Leucistic Ball Python from 2 Normal appearing Ball Pythons. I have truly been blessed with this very rare and magnificent creature. The Blue eyes almost look through you. Leucism is the rarest color morph in all reptiles ( Less than 1 in 10,000 ). This Project will occupy most of my time for the next few years.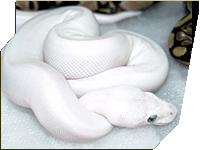 Upper text by Vin Russo
Below text by Ralphie.......
I produced 2.1 "Blue Eyed Lucy" in 2003 from breeding a Lesser Platty male to a Phantom female..........then in 2004 I produced 0.2 lucy from the same breeding ( Lesser x Phantom ) and 0.3 from breeding "Platty Daddy" to two of his Lesser Platty daughters.............the lucys from the Lesser x Phantom have blue eyes and a very faint "off white" broken dorsal stripe down the spine.............the lucys from Platty Daddy x Lesser are blue eyed, pure white with ZERO dorsal markings............the "whitest" Lucy on the planet to date!!! ( Platty x Lesser )
Check out the Phantom and Platinum "Proven Traits" page for more info on how I produced the Blue Eyed Leucistic ball pythons in 2003.
As of 2005..........I have figured out that Platty X Lesser and Lesser X Lesser produce a "Super Lesser" that is pure white with blue eyes...........no faint dorsal markings or "cheek marks"..........it's just WHITE!!
Phantom Lesser Lucys have a pale dorsal stripe and blue eyes............they are the actual cross of a Phantom and a Lesser.